4 new colorways. Premium Miyota 9019 automatic movement. Improvements on the crown, dial and watch case. Same beloved box sapphire crystal and X1 Grade Swiss Super-LumiNova® luminescent.
Pre-orders on website and Kickstarter March 2022.
All New Collection
Additional four new models
The improved OPUS 39 V2 comprises of total of 7 dial variants. All models are limited to 300 pieces worldwide.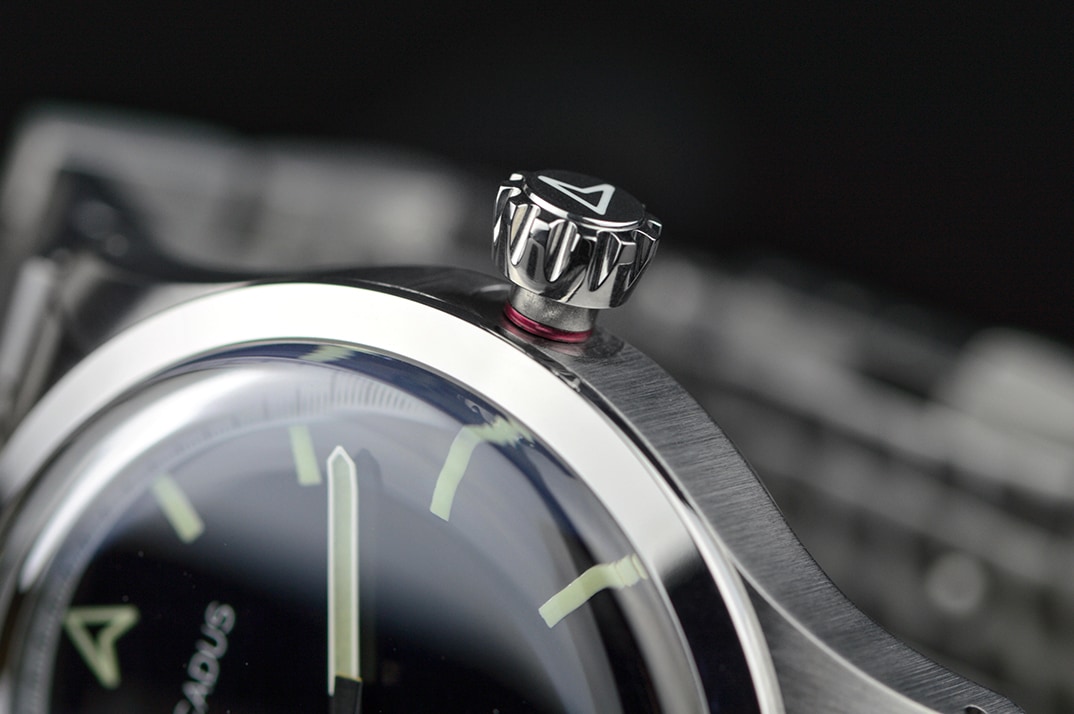 Screw-down Crown
The OPUS 39 is water resistant up to 100m / 333ft / 10 ATM, much greater than the 30m water resistance rating common to most pilot watches.
Inspired by the Brave Voyages of Yesteryear
A true piece of vintage art, the OPUS 39 features a box-shaped crystal that sticks out beyond the case edge/bezel, an improvement on the easily-scratched plexiglass (acrylic glass) previously common to box-shaped watches lenses.
Sapphire Crystal – Just Try to Break It
Extraordinarily hard, the sapphire crystal used in the OPUS 39 is virtually unbreakable, rivaled only by the diamond in terms of hardness and scratch resistance.
More Affordable than Ever
Normally, box-shaped crystal is found only in watches that cost upwards of $2,000-3,000, but when you reserve the OPUS 39 through this campaign, you are getting it at a fraction of the price.
Anti-Reflective the Smart Way
There are five layers of anti-reflective coating applied to the top lens to prevent glare – not on both sides, as that can lead to scratching. Instead, the OPUS 39 features an inner anti-reflective coating.

1 X
for
Supreme Clarity.






2 X
3 X
4 X
5 Layers of AR Coating.

1 X
for
Supreme Clarity.






2 X
3 X
4 X
5 Layers of AR Coating.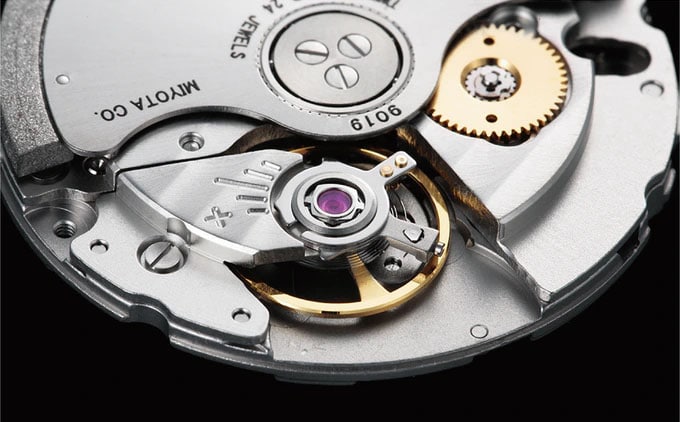 Miyota 9019 Automatic Movement
This is a premium Japanese movement that has known for its consistency and reliability. The OPUS 39 V2 will be assembled with a in-house regulated Miyota 9019  automatic movement with customized skeletonized rotor with engraved with ALCADUS logo.
Movement Specification
Winding
Self-winding mechanism (automatic)
Power Reserve
42 Hours
Jewel Count
24
Cadence
28,800 bph (4 Hz)
Accuracy
Daily rate: +/-7 sec/day (regulated in-house)
Functions
Hours, Minutes, Seconds (Hacking), Date
The Accessories
All OPUS collection comes with
One (1) brushed 316L stainless steel bracelet
One (1) handcrafted premium Italian top-grain leather strap of your choice
One (1) handmade and hand-stitched leather watch roll. Each rolls holds up to three watches of sizes up to 46mm.
There are several premium strap and bracelet options that come with the OPUS 39, each featuring a quick-release mechanism for easy changing and minimum risk of scratching.
The straps and bracelet is 20mm width at the lug and tapers elegantly to 16mm at buckle. All straps and bracelets comes with a brushed finished buckle with relief-engraved logo.
The OPUS is made for strap changes. You have the option to add an extra strap to complement your OPUS. There will be 4 strap options offered initially, and more will be added to the online store. Simply add your favorite straps and more items into your order before we start to ship your pre-orders.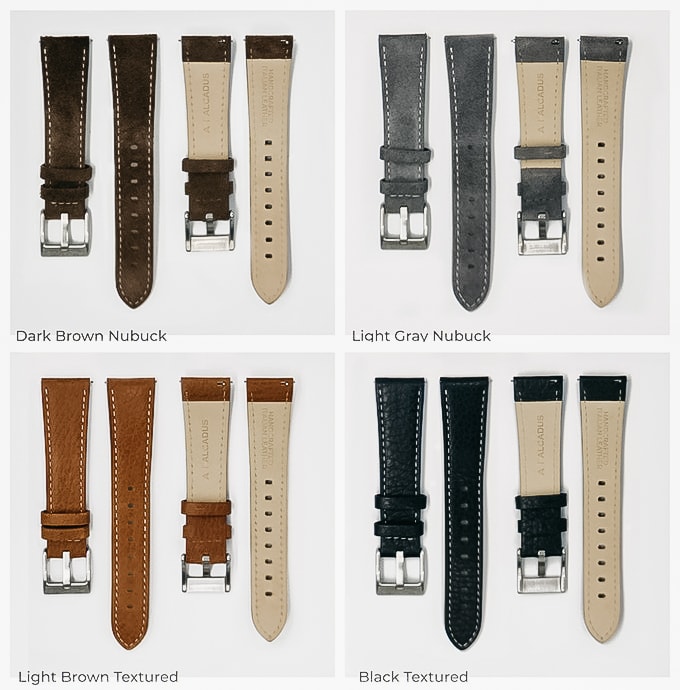 OPUS
Technical Specification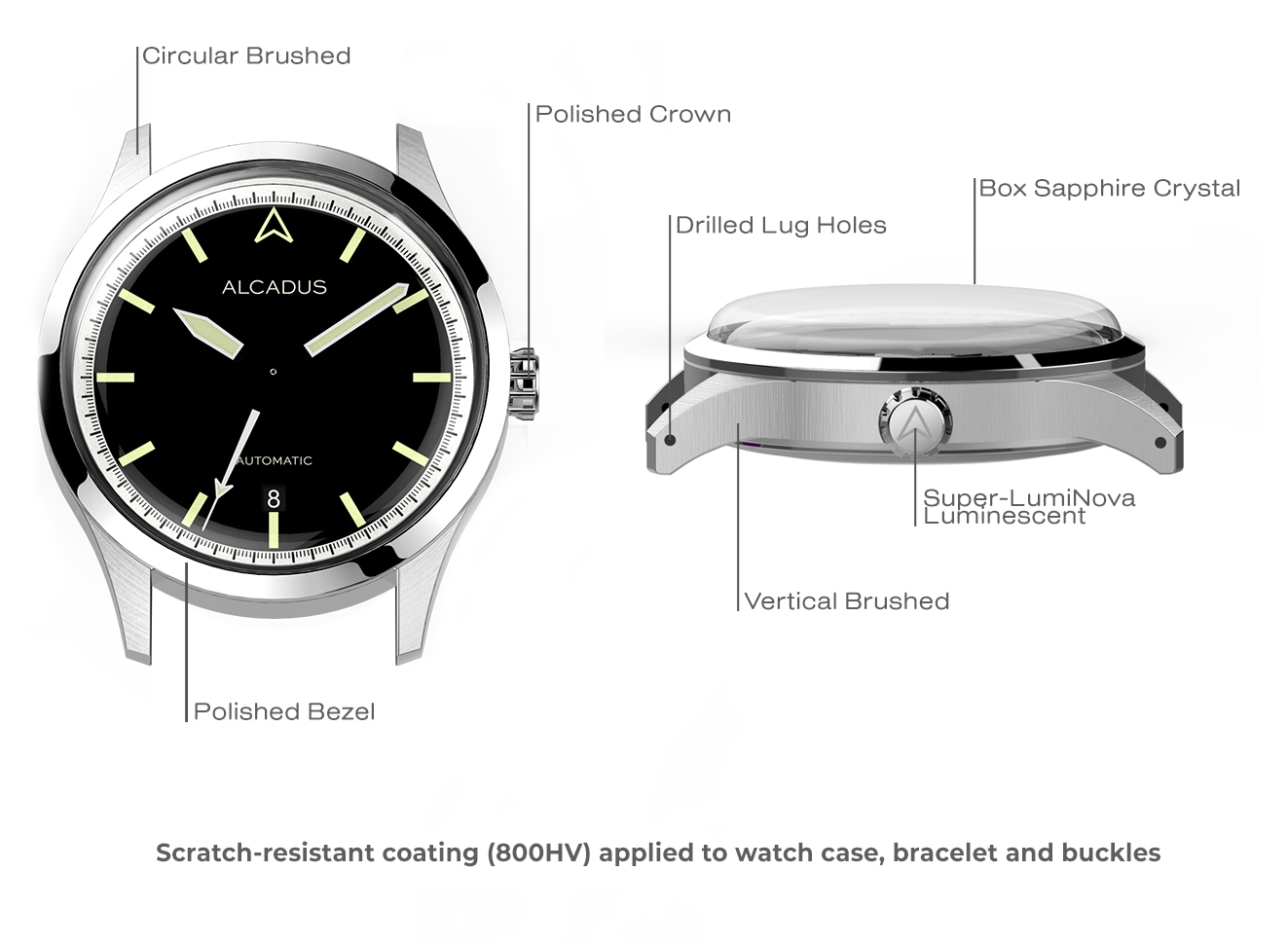 Case
316L Stainless Steel with scratch-resistant coating, brushed finish with polished bezel
Dial
Jet Black, Phantom Grey, Argent White, Blue Sunray, Salmon, Mint Green, Modern Grey.
Hands
Sword style hours hand, baton style minutes hand and custom seconds hand with ALCADUS Logo. All covered in a photo-luminescent coating except the Grey full-lumed dial version. Flame-blued hands on Argent White and Modern Grey.
Luminescent
Swiss Super-LumiNova® on dial, hands and crown
Movement
Miyota 9019 (regulated) with customized skeletonized rotor
Lens
Box sapphire on top (with 5 layers of clear AR coating), flat sapphire on display see-through caseback
Included Straps
Stainless steel bracelet, premium Italian leather straps / nubuck strap
Water Resistance
100 meters / 10 ATM / 333 ft
Dimensions
39 x 45.5mm
Thickness
13.3mm (including 2mm thick box sapphire crystal)
Lug width
20mm (with drilled lug holes)
Crown
Screw-down, engraved ALCADUS logo with Luminescent applied
Warranty
2 + 1 years
In The Press
Media Coverage of OPUS
Click on links below to access the latest press coverage and reviews on the OPUS Collection: